10 Reasons Why a Jeep Wrangler is the Best Summer Car
We all have our favorite cars; some of us love trucks, some of us love sports cars, and some of us love practical cars. One of the best cars to have in the warm summer is a Jeep Wrangler. Jeeps have been a part of America for a long time as they were used in the United States Military in 1941. Ever since then, they have been an American icon. You don't even need to be going to a fun destination, in a Jeep the journey is the best part! If you are, or have ever been debating getting a Jeep, here are some reasons they are so great year round, and especially in the summer.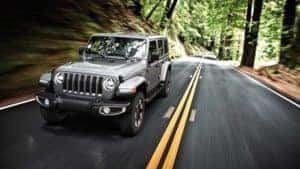 It's a great convertible.
The Jeep Wrangler is unique in that it's the only real convertible in today's sport utility market. Many argue that it even looks better "topless" than with a top on. Indeed, the 2012 Jeep Wrangler made Motor Trend's Top 15 Convertibles of All-Time List, making the cut with the famed 1962 Shelby Cobra and 1967 Ferrari Spyder. There is no doubt that your 2019 Jeep Wrangler would look more sleek. Driving topless is one of the great things about owning a Jeep Wrangler. Even billionaire movie mogul Steven Spielberg knows this. Topless Wranglers played prominent roles in some of the most memorable scenes in Spielberg's Jurassic Park, one of the highest grossing films of all time. Fortunately, you don't have to be running from a man-eating T-Rex to enjoy the fresh air and view from a topless Jeep Wrangler.
It Makes the Perfect Beach Car.
A big reason they're so great is because they're the ultimate beach car. Just load up with snacks, people, and some chairs and towels and you're ready for the beach in a car that will make the trip a blast. Your Jeep will also automatically become the party car. Everyone is going to want to go on a joy ride with you, just be ready to ask for some gas money in return. You can get a nice tan while driving. Just throw the top down and roll down the windows and you've got a moving tanning bed! You never have to worry about getting into a hot, stuffy car that has been locked up in the sun all day and having to wait for the AC to crank up. Be prepared for your friends to be jealous when you go to your cars and they can barely sit in the heat from the car being so stuffed up all day, and you just hop in without needing to wait for the air. Jeeps have their own built in air conditioning, and that's the wind! Just take the roof off! There's a reason there is a saying "Jeep hair, don't care". Never, I repeat never get your hair done before driving a Jeep with the top down because all of your hard work will be erased. On the bright side, you get to rock the baseball hat look and in the summer, that is always a good outfit staple.
It's a Fantasic Off-Road Vehicle.
Since World War II in 1941, this American icon has been boldly going where few vehicles have gone before. Indeed, the wartime photographic record is replete with Jeeps slogging their way through thick mud, flooded roads, sandy beaches, and deep snow. Today, the Jeep Wrangler consistently appears in every Top 10 off-road vehicle list. As it should. The stout axles, short wheelbase, high clearance, flexible suspension, and 4-wheel-drive (4WD) drive-train of the base version make the Jeep Wrangler a formidable off-road vehicle. Upgrade to the even more capable Wrangler Rubicon, that features a higher lift, Dana-44 axles, larger tires, and locking differentials, and you've got yourself one heck of an off-road beast. Better yet, the Wrangler does all of this without breaking the bank like most 4WD imports.
It's an Attention Getter.
Like a classic Dodge Charger or Dodge Challenger, the Jeep Wrangler is a big attention getter. Here in the Houston area, it's a rare day indeed when you don't get a wave or a hard look from a Jeep admirer when driving around the city. The Jeep Wrangler is a great way to meet people, too. Girls who drive Jeeps will no doubt get the head-turning attention and admiration from men. Likewise, I'm sure Jeep driving women feel the same way about seeing a guy behind the wheel of a Wrangler. There's no doubt about it, owning a Wrangler says a lot about the man or woman driving it. It shows that they posses a superior intelligence, taste, and class to own the ultimate sports utility vehicle – the American Jeep.
It's Supported by a Large Aftermarket Industry.
You'd be hard pressed to find a larger, more profitable aftermarket industry than the one enjoyed by owners of the Jeep Wrangler. No matter which version of Jeep you own—CJ, YJ, TJ, or JK—there are a plethora of aftermarket parts and accessories that you can purchase for the interior and exterior of your Jeep. Not only that but you can even buy replacement parts for your Jeep that are far better than the OEM parts originally produced–remember the troublesome exhaust manifolds in the early TJ's that were prone to cracking? Those are a distant memory now that you can buy a long-lasting, stainless steel manifold with expansion joints. Want to turn your Jeep Wrangler into a pickup truck? No problem, a conversion kit called the Brute is offered by American Expedition Vehicles (AEV) that can transform your Wrangler (either TJ or JK) into a cargo hauling, off-road monster.
It is Easy to Repair and Work On.
Unlike many European and Japanese SUV's and trucks, the Jeep Wrangler is remarkably easy to repair. You don't need a "masters in Jeep degree" to work on them. The engines are simple and the engine bays uncommonly roomy, making it easy to reach most areas of the engine. Fortunately,  Wranglers feature quality, well-designed engines–like the renowned 4.0L Inline 6 and the new, highly regarded 3.6L V6. Not only that, but you'll find loads of websites and YouTube videos providing quality, "how to" advice for working on and repairing your Wrangler. Most of this advice is from everyday folks like us, who learned on the job and are presented in laymen terms that we all can understand. Finally, owning a Jeep Wrangler is a great way for teenagers and young adults to learn the "in and outs" of vehicle maintenance.
You Will be Apart of the Jeep Fraternity.
Similar to Harley Davidson owners, the Jeep Wrangler fraternity is huge. No, it isn't quite as large as the Harley fraternity, but it's close and damn near as fanatical. Indeed, Jeep clubs can be found in practically every state of the union and on every continent. Jeep clubs are even sprouting up in far away places like China and Indonesia! These clubs host gatherings, seminars, and trail rides where you can ride and rub shoulders with other like minded Jeep Wrangler enthusiasts. The fraternity in cyberspace is even larger with numerous websites and Internet forums where you can ask questions, get advice on repairing your Jeep, and organize Jeep shows. When you own a Jeep, you're automatically apart of a Jeep family. Enjoy getting waves from any fellow Jeep Wragler drivers coming your way on the road and be ready to give a peace sign or wave from your steering wheel! Giving the so called "Jeep Wave" to other Wrangler drivers can make your short trips around town a little more entertaining.
You Will own a Piece of American History.
History is cool? It sure is, especially when it's about Jeeps. The Jeep Wrangler's roots reach back to 1941 when the Willys MB model first appeared in the U.S. military. Over 300,000 MB models, or "Jeeps" as they were called by U.S. servicemen, were produced during the war with 144 Jeeps issued to every U.S. Army infantry regiment (similar numbers were also issued to each U.S. Marine Corps regiment). Large numbers of Jeeps, about 30 percent of total production, were also shipped to America's Allies. During the war, the rugged and reliable Jeep proved it could go anywhere and was a big hit with the troops. After the war, Willys decided to leverage the Jeep's brand and fame by producing a civilian version, the CJ-2A, from 1945 to 1949. This first "CJ" offered features not found on the military model, including a tailgate, higher windshield, larger headlights, and a side-mounted spare tire. It retailed for $1,090.
It is Great for All Types of Weather.
Everyone knows that the Jeep Wrangler is an exceptional off-road vehicle, but how does the Wrangler perform when the road turns white? No worries. Even in deep snow and ice, the 4-wheel-drive Jeep Wrangler will get you from point A to point B, safely and securely. The 4WD capabilities coupled with the Wrangler's short wheel base and high clearance means you'll get better cornering stability, greater straight-line stability, superior hill-climbing performance, and exceptional handling in snow and ice. Now a specialized snow tire or chains may be needed for more extreme, white-out conditions, but in most cases a good all-terrain tire is all that will be needed.
It Can Be Flat-Towed.
With all of the great things that a Jeep Wrangler can do, Jeep engineers managed to cram yet another terrific capability into its small frame–the ability to be flat-towed or towed "four down" (refer to the owner's manual for details on how to do this). Believe me when I say that RV owners and off-road enthusiasts have taken notice. Motorhomes and Truck Campers can be seen in vast numbers across this great land, pulling their Jeep Wrangler "toads" to their favorite recreational spots like the Mojave Desert, Quartzsite, and Moab. The lightweight of the two-door Wrangler (about 3,500 pounds) means you can tow the Wrangler safely and legally with a simple Class III tow hitch.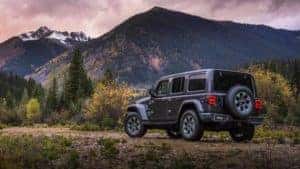 If you have any questions, feel free to
contact us
here at Bayshore Chrysler Jeep Dodge. We'd love for you to stop in and test drive one of our Jeep Wranglers today.