RAM 1500: Why to Buy & How to Maintain
RAM 1500: Why to Buy & How to Maintain.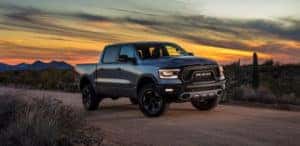 Here at Bayshore, it's no secret that the RAM 1500 is one of our most popular vehicles. It provides a very impressive ride, handling, and quietness for a large pickup truck, and makes a statement pulling up to Baytown 4th of July events. The RAM 1500 has excellent 8-speed transmission, and the crew cab's cavernous interior is incomparable to that of any other truck.
According to Consumer Guide Automotive, there are many advantages and benefits to purchasing the 2019 RAM 1500. The Ram 1500 half-ton pickup is redesigned for 2019, gaining a host of new high-tech safety and convenience features, a lighter body structure with enhanced aerodynamics, and new powertrain technology aimed at improving fuel economy.
Quad Cab features. Initially, the 2019 Ram 1500 will be available as a Quad Cab (an extended cab with abbreviated rear doors) and Crew Cab (a full 4-door cab with full-length rear doors); a "regular" two-door cab will be added later in the model year. The previous-generation 1500 will continue for 2019 as the Ram 1500 Classic.
Engine options. The 395-horsepower 5.7-liter Hemi V8 returns, and is joined by "eTorque" mild-hybrid versions of both the Hemi and a 3.6-liter V6. The eTorque system uses a 48-volt motor/generator in place of a traditional 12-volt alternator to provide quick start/stop capability and a bit of increased low-end torque for better acceleration, as well as improved fuel economy. A turbodiesel 3.0-liter V6 is expected later in the model year. All engines are paired with an 8-speed automatic transmission, and as before, part-time and full-time 4-wheel drive systems are available.
Available comfort and convenience features. There are a variety of features and options to choose from. Some of the features include heated/ventilated front and rear seats, parallel park assist, surround-view camera, Apple CarPlay and Android Auto functionality, 4G Wi-Fi hotspot, power-adjustable pedals, panoramic sunroof, and power release tailgate with hand-swipe feature. These features are very high tech, and definitely stand itself apart from the competition because of it.
Safety features. Available safety features include forward collision warning and mitigation, front and rear obstacle detection with automatic braking when in reverse, blind-spot alert, lane-departure warning, rear cross-traffic alert, adaptive headlights, and adaptive cruise control. These safety features will aid in wreck prevention, and will give the driver more confidence to take full control behind the wheel.
The Ram 1500 has long been one of the most popular trucks in America, and the new generation is an impressive revamp of an old favorite. Ram's unique coil-spring rear suspension provides an exceptionally smooth ride and composed handling for a pickup. The Hemi engine is as powerful as ever, but its fuel economy is still subpar even by large-pickup standards; although the V6 does better and the forthcoming diesel engine should be even better still. Even with a thirsty Hemi, the Ram 1500 is an outstanding truck that deserves a look.
Some tips to ensure that your RAM 1500 stays in tip-top shape forever are as followed.
Rotate your tires and keep them balanced. Rotating and balancing your tires each time you get your oil changed helps ensure an even wear because tires can wear unevenly according to the drivetrain of your truck. Customers often think that they just need to change the oil at a certain interval but it is recommended that you rotate your tires every time you have your oil changed as well. Rotating your tires will not only extend the life of the tires themselves, it can also make for a much smoother ride and reduce the strain on your truck's suspension that can come from unevenly worn tires.
Checking that fluid levels are up is very important. The most important fluid to check is engine oil, which we've already mentioned. The next important fluid level to check is engine coolant. Check the levels by popping the cap (normally identifiable by a warning and matching illustration indicating you should never open when the engine is hot). Refill when needed with the coolant specified in your owner's manual. Lastly, check the windshield washer fluid. It is smart to keep an extra jug of the blue stuff somewhere in your vehicle, especially during winter, when salt and sand are on the road.
Keeping up with your sounds, smells and clanks is essential. If you notice something a little off about your truck, take it in. It's always better to be safe than sorry. During an inspection, everything from batteries to spark plugs to brakes is analyzed. If technicians spot something off about your truck, they can fix it before it gets worse…or majorly expensive. Turning your back on something as small as a signal light not working could ultimately turn into something much more serious. When in doubt, get your truck thoroughly checked out so the issue will be rectified and your truck will run smoothly.-
If these pointers are followed, especially how often to change your oil, we're sure the life and quality of your RAM 1500 will exceed your expectations and safely transport you, your family and more for years to come. Treat your truck how you'd like to be treated; with love, care, attention and respect. Contact us at Bayway Chrysler Dodge Jeep Ram if you have any questions or need a check-up today!
If you're in Baytown, TX looking for a dodge dealership near you be sure to swing by Bayshore Chrysler Dodge in Baytown.